A hot air balloon ride is an amazing way to pass time flying relaxed, experiencing the heights, viewing the city and beauty of the landscape up from the air. It brings in a mesmerizing experience to the tourists every time. The topmost quality and maintaining safety standards are the best features of these rides. It's honestly once in a lifetime experience that's breathtakingly impressive. The take-off moment will take you to a whole another kind of dream gliding slowly across the desert, enjoying the sunrise, and Dubai's landscapes.
But the main issue with these rides is they are highly expensive. The prices normally range between AED 949 to AED 20900, varying on the package one chooses. And that's the reason why we have brought in the best hot air balloon rides at the lowest price in Dubai.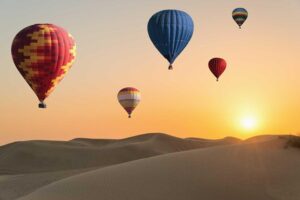 Jashan Tourism – Balloon Ride Dubai
Founded in 2015 under DTCM, they are a recognized part of Jashan Tourism LLC Dubai that brings in the cheapest hot air balloon rides for every traveler. A Hot Air Balloon ride is an alternative sightseeing experience that will be memorable for you and your family for a whole lifetime. They believe in maintaining a good relationship with their passengers, offering a blissful experience every time.
Packages and the Lowest Price Offers by Balloon Ride Dubai
The greatest price rates brought in by Balloon Ride Dubai are 679 AED/kid and 849 AED/adult. Their Packages for Group Balloon Rides covers Small Exclusive Charter (1-6 passengers) – AED 8900 and Big exclusive Charter (7-20 passengers) – AED 18900. Their other Hot Air balloon deals include
Balloon Flight- Falconry- Refreshments- 679 AED 186 $/kid
Balloon Flight- Falconry- Refreshments- Pick up & drop off- 849 AED – 232$/person
Small Exclusive Charter (1-4 Guest)- 15,999 AED- 4,383$/person (Range Rover pick up, Wildlife Drive, & private breakfast)
Medium Exclusive Charter (5-8 Guest)- 17,999 AED- 4931$/person (Range Rover pick up, Wildlife Drive, & private breakfast)
Big Exclusive Charter (9 – 24 Guest)- 25,000 AED- 6,849$/person (Falconry & breakfast)
They also bring in Helicopter Rides with several tour prices and deals that range from 650 AED to 1900 AED per person depending on the time of ride and packages one selects.
Why Choose Balloon Ride Dubai
Their Hot air balloon rides basket capacity ranges from 8 people to a maximum of 24 people in a single ride. Their ride rates are around USD $ 239 on average. Their hot air balloon ride is completely safe and they maintain all kinds of safety measures required for their passengers. Experienced and trained professionals operate the balloon and are available at all times for help. The skilled pilots operating the balloon are licensed and certified and have passed all flight checks. Their rides duration is for 1 hour that can also be affected by factors including weather, the weight of people, air, and temperature. They also bring in several types of Cancelation and refund Policies on their rides for their customers.