Dubai is a spectacular place with its man-made archipelagos, extensive expanses of sandy shoreline, and sophisticated buildings. Taking in the awe-inspiring sights offered by Dubai on foot will take up a lot of time. The most exciting way to enjoy most of it in a little time is to take a thrilling Dubai helicopter ride.
A Dubai helicopter ride will let you enjoy all the impressive sights of Dubai, like the Burj Khalifa, the Palm Jumeirah, the World Islands, the Atlantis Hotel, and the Burj Al-Arab Hotel. When flying with an experienced pilot, you will surely not miss any of the important landmarks.
The Dubai helicopter ride is a thrilling experience regardless of whether you have toured Dubai before or not. The helicopter ride will give you a bird's-eye view of this magnificent city and is one of the best ways to assuage the wanderlust in you. The Dubai helicopter rides will also offer you several memorable and photo-worthy moments that you can preserve for the rest of your lives.
There are numerous premium helicopter tour providers in Dubai with a fleet of high-quality helicopters and experienced pilots. These tour providers offer several ride packages that cater to the needs of a diverse clientele. There are also several ride packages that offer you stops at some famous spots. You will be able to choose the best ride that suits your time constraints and enjoy the impressive sights of Dubai in the best way possible.
Helicopter Tour Price and Deals
Iconic Tour Dubai 12 minutes –

650 AED per person

Fun Flight Tour Dubai 15 minutes –

900 AED per person

Vision Tour Dubai 22 minutes –

1050 AED per person

Odyssey Tour Dubai 40 minutes –

1900 AED per person

City Circuit Tour Dubai 25 minutes –

1400 AED per person

Palm Tour Dubai 17 minutes –

850 AED per person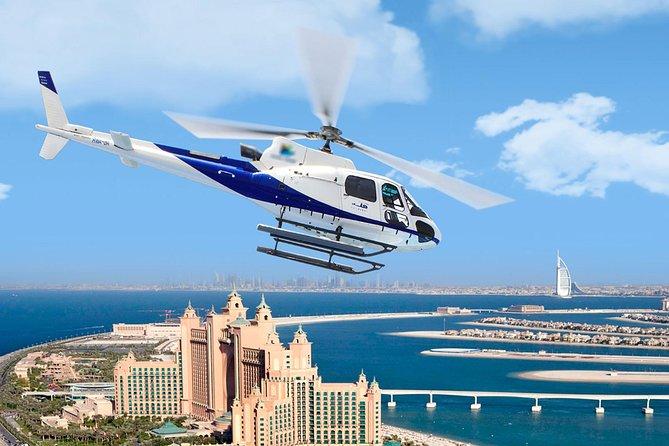 Helicopter Ride Dubai details
Inclusions:
Our Driver will come to pick you up from your location in Dubai
Trip includes 15 or 30 minutes luxurious helicopter ride. (As per booking)
From Top you can view Sheikh Rashid Palace, Burj Khalifa, Dubai creek and port rashid, Jabeel Palace, Corniche, Downtown Dubai and many other major landmarks of Dubai.
After helicopter ride our driver will drop you back to your hotel or residence in Dubai.
Dubai helicopter ride: Tour Details
Most Dubai helicopter tour companies start their first tour at 9.00 am. The tour time will depend on the tour package selected by you.
The helicopter tour companies will also provide you with insurance in accordance with the regulations of the aviation authority of the UAE.
All tours are subjected to favorable weather and visibility conditions. If the tour gets canceled due to bad weather, you will either get a full refund or get an alternate tour date according to the policies of the helicopter tour company.
Depending on the availability, you will be given confirmation of the tour within 2 days of booking by most of the companies.
Children can also enjoy Dubai helicopter rides, but under the supervision of an adult. But most of the companies do not allow infants, especially those below 2 years, onboard the helicopter to avoid injury to the little kids.
These rides are all wheelchair and stroller accessible, and hence can be enjoyed by everyone.
Almost anyone can take Dubai helicopter rides. The only people discouraged from taking these rides are those with serious heart diseases and similar complicated medical conditions. Also, women who are pregnant can only fly for the first 30 weeks of their pregnancy.
Your tour company will inform you in advance of the location where you have to report for the helicopter tour, along with the reporting time. Make every effort to arrive on time, as any delay in your tour may cause problems for all subsequent tours organized by the company. If you are extremely late for the tour, your tour may also be canceled.
One of the expensive and stylish tour of Dubai is Helicopter tour. One can experience amazing view of Dubai from sky. Major sites which you will see is Burj Khalifa, Burj Al Arab, Palm Jumeirah, The world, Tall towers of Sheikh Zayed Road and many more. Big towers will look like minions and view of the city from sky is unforgettable. Helicopter ride is designed for all occasions. If you wish to propose your loved one's or want to say simply thank you to someone, you can do same in style with our helicopter tour. Timings for tour are flexible and you can choose same as per your comfort. Making booking is simple by calling us or just filling simple inquiry form. Rest of the formalities our tour agent will do. Must carry your passport during trip as this is a mandatory requirement. Tour is open for all ages so perfect family ride can also be booked. Call us for questions and feedback.
Types of helicopter rides
Different Dubai helicopter tour companies offer numerous ride packages of different durations. The most common is the 12-minute tour package. There are also 15-, 17-, and 22-minute tour packages.
12-minute Dubai helicopter ride
You will get to enjoy an amazing panoramic view with a 12-minute tour package. You can see incredible locations like the Burj Khalifa, the Palm Jumeirah, the Burj Al Arab, Godolphin, and Business Bay. You can also view the spectacular Jumeirah coastline and take stunning photographs.
15-minute Dubai helicopter ride
The 15-minute helicopter ride is a thrilling and fun excursion. It will let you enjoy some famous landmarks of Dubai, including the Palm Jumeirah, the Burj Al Arab, the Burj Khalifa, and the Arabian Gulf Coast. People can take stunning bird's-eye view photographs of these famous sites.
17-minute Dubai helicopter ride
With the special 17-minute helicopter tour, you can go at your own pace and get a quick view of Dubai. You will fly over Palm Jumeirah, the Burj Al Arab, and a number of rivers, beaches, and other notable locations during the 17-minute helicopter tour. You can also view the World Islands and Atlantis and take a picture from a bird's eye view.
22-minute Dubai helicopter ride
The 22-minute tour will give you ample time to enjoy all the important sights in Dubai, including the Burj Khalifa, Dubai Marina, Atlantis Hotel, the Palm Island, Dubai's historic creek, and Port Rashid. This is one of the best ways to enjoy the bird's-eye view of Dubai leisurely.
Helicopter Tour Dubai Faqs
A maximum of 5 people are allowed on each flight and the maximum weight of each guest should not exceed 120 kg
This depends on the tour company you have chosen. Some companies offer pickup and drop-off services from anywhere in Dubai. There are some companies that offer such services on request but with additional charges. If your tour company does not offer pick-up services, you will have to make travel arrangements well in advance. So check with the company beforehand to avoid confusion.

A Dubai helicopter ride is one of the most unforgettable experiences in the world. You should surely go for one at least once in your lifetime.
All helicopter tour companies in Dubai operate by following mandatory COVID-19 protocols. All tourists are expected to wear face masks. All the equipment and vehicles are sanitized before the tour. Hand sanitizers will also be provided to travelers. Online and cashless payments are available for most companies.