Dubai is one of the most popular tourist destinations in the world. The city is known for its fancy restaurants, contemporary buildings, and imposing skyscrapers. Many of the rooftop restaurants and bars in this stunning city offer you an experience like no other. If you want to admire the fantastic skyline of this city, the best way to do so is to visit a rooftop restaurant with stunning vistas of its iconic landmarks.
Are you looking for the best rooftop restaurants in Dubai? Look no further because we have covered some of the finest rooftop restaurants in Dubai in this guide.
1. Atelier M

Atelier M is one of Dubai's biggest gems. Here is an opportunity to feel on top of the world by visiting this amazing rooftop lounge in the city. Relax with your loved ones as the sun sets and unwind while marveling at the twinkling stars. Cherish the fabulous vistas of Dubai Marina, and impeccable ambiance, and enjoy the music played by international DJs. Set on Pier 7's top floor, the rooftop restaurant is also an ideal spot to admire the city's skyline and lagoon. The delicious, contemporary dishes and the breathtaking views make this restaurant an ideal spot to enjoy a memorable day-to-night experience. It is open on all days of the week.
2.Atmosphere Burj Khalifa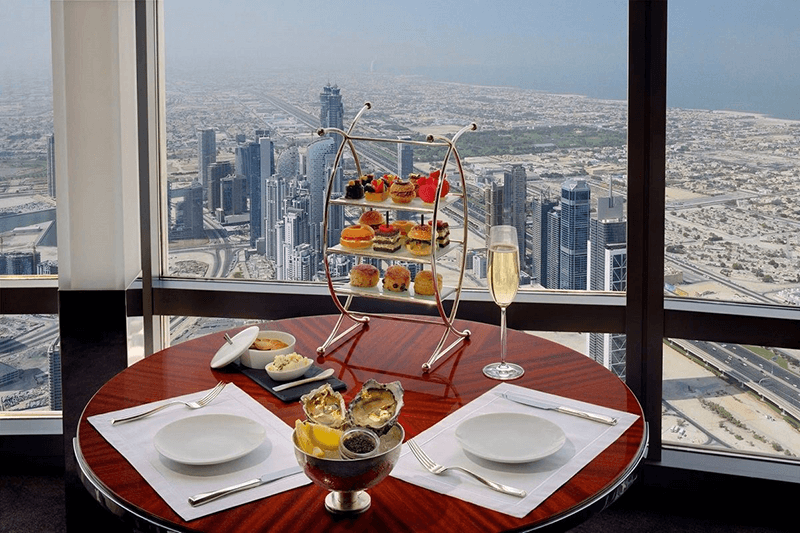 The restaurant expansively sits on the 122nd floor of Burj Khalifa, the tallest building in the world. You would get the chance to marvel at the city's stunning views from this lovely rooftop restaurant that stands at 1450 feet (442 meters) above ground. It is beyond doubt that the restaurant boasts some of the finest vistas of the Arabian Gulf. The upscale dining restaurant is also synonymous with secret ladies' nights, excellent service, and delicious delicacies. It is an excellent spot in the city to spend your special moments with your loved ones.
3. Level 43 Sky Lounge
It is a chic blue-lit, sleek open-air terrace lounge that sits in Dubai's Sheraton Hotel with a pool and scenic city views. Photographers – both professional and amateur, love visiting the spot at dusk to click the beautiful sunsets. Level 43 Sky Lounge offers vistas of the bustling Sheikh Zayed Road of Dubai and has been decorated with beautiful garden furniture and blue-violet lights. The stylish terrace is an ideal spot to soak up the vibrant cityscape of Dubai. Relish the freshly made sushis and succulent seafood and wash them with a delicious cocktail or mocktail. We recommend the refreshing Lycheeni cocktail, which is a perfect mix of vodka and lychee juice. This rooftop restaurant welcomes guests with a fun-filled dining experience.
4. Kris with a View
Titillate your taste buds with some of the finest Arabic and Asian cuisines in this luxury rooftop restaurant with some of the stunningly beautiful views of the sky-scrapers Dubai is famous for. Relish a scrumptious afternoon meal or a romantic poolside dinner with the special person in your life. Kris with a View features aesthetically set furniture amid an infinity swimming pool on the building's 19th floor and offers you an unforgettable experience. Experience the city's breathtaking sunset and sunrise views from this rooftop restaurant from October to April every year.
5. Luchador Roof Cantina & Lounge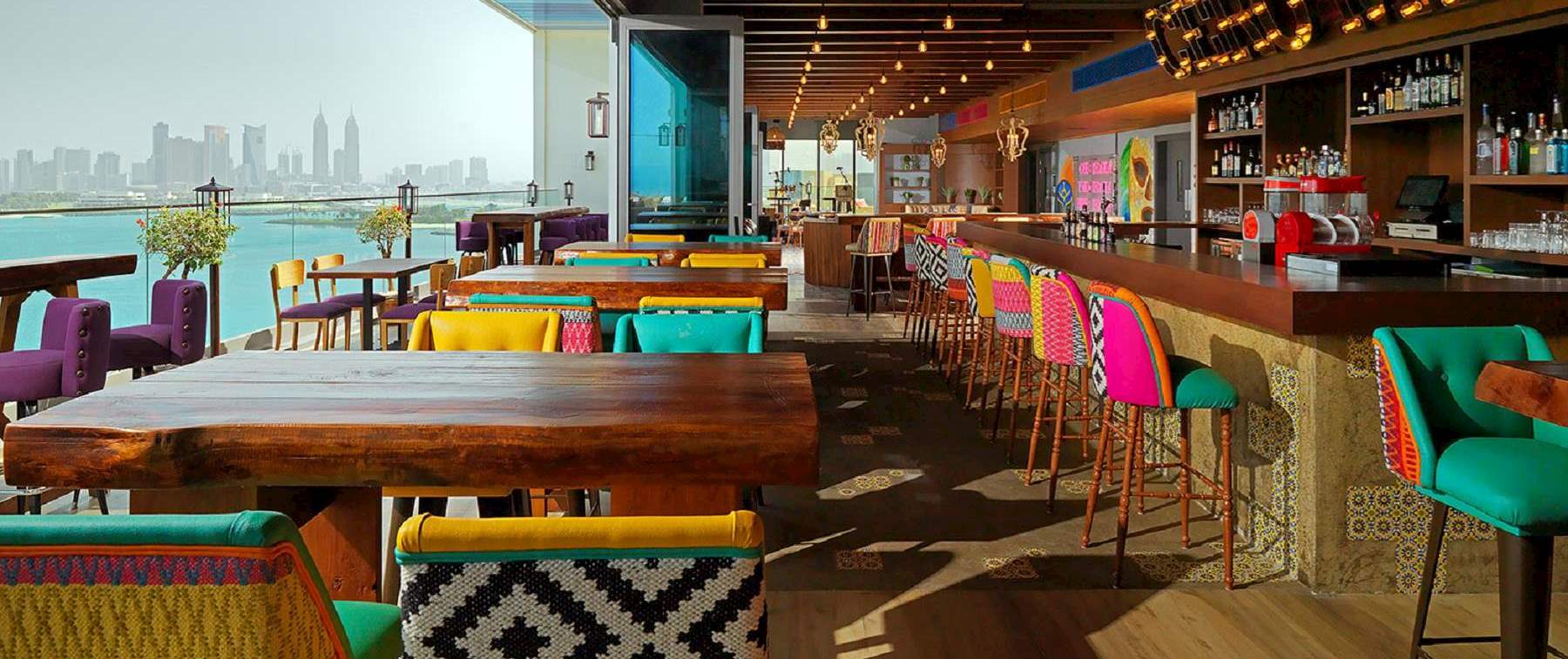 Are you in pursuit of authentic and mouthwatering Mexican delicacies with a gorgeous view? You should then check out this fabulous rooftop restaurant in Dubai. Luchador Roof Cantina and Lounge sources genuine Mexican ingredients to prepare the country's original tastes and flavors. You would also fall in love with the restaurant's remarkable collection of alcoholic beverages. It also offers you a chance to enjoy foot-tapping Latin dance performances. Make sure you enjoy their interactive services every Thursday and Friday to kickstart your weekend. The vibrant ambiance of this rooftop restaurant is undoubtedly its best feature, which would make you feel like dancing the entire night.
6. Al Dawaar Revolving Restaurant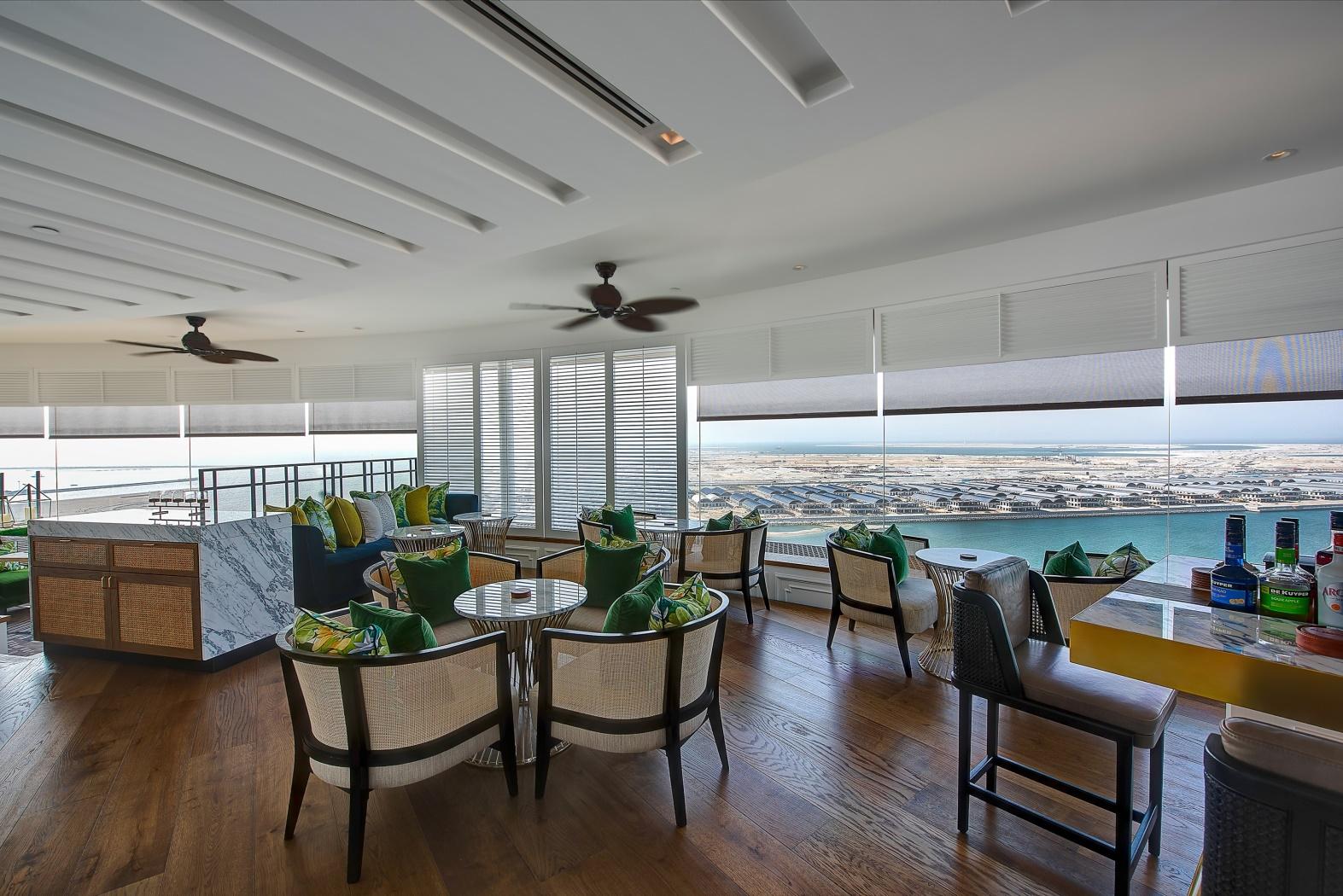 No matter whether you plan to enjoy a family dinner, a romantic date, or a corporate luncheon, this stylish restaurant always ends up giving a pleasant surprise to its patrons. Al Dawaar Revolving Restaurant is one of the most famous hotspots of Dubai's Hyatt Regency Hotel. It is the city's only revolving restaurant that offers 360-degree vistas of the illuminated skyline of Dubai. A major attraction of this rooftop restaurant is its unbelievable array of delectable dishes, including US Prime Rib, "catch of the day", Dim Sums, Sashimi, desserts, Indian delicacies, and more. The restaurant is also an excellent option to see the chefs creating magic while cooking in the live kitchen.
7. Iris Dubai
Enjoy the finest music and food in this open-air laid-back rooftop lounging space in the city of golf. Iris Dubai boasts the most incredible skyline views. It is also easy to love their extraordinary collection of fusion food items, which gel quite nicely with the striking mixology of drinks. The place is also famous for its live music shows and DJ nights, which will leave you shaking a leg throughout the night. Iris Dubai is also popular for its warm hospitality and friendly service.
8. Babiole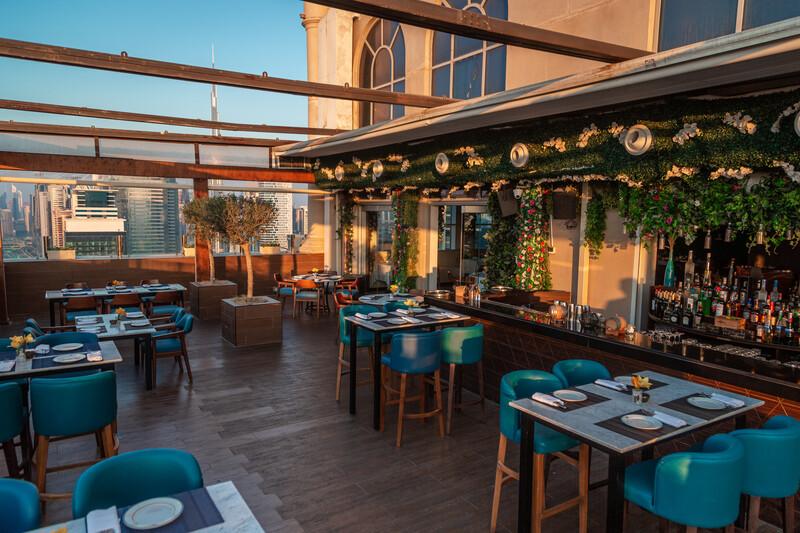 The restaurant sits in Hilton Dubai in Al Habtoor City and is a flamboyant spot to enjoy the gorgeous vistas of the Arabian Gulf and Burj Khalifa. Enjoy the awe-inspiring views while relishing the best Mediterranean delicacies in the town. Babiole is the first choice of many people in Dubai while planning a corporate meeting, a laid-back family dinner, or a cozy date. The authentic multi-cuisine dishes gel quite well with an incredible collection of beverages. The restaurant impresses its guests with its stunning sunset views, large terrace, glamorous settings, and other amenities.
Final words
Dubai is a city that never fails to surprise its visitors with stunning skyscrapers, gorgeous tourist attractions, unique shopping experiences and great culinary spots. The city boasts many wonderful rooftop restaurants offering a top-notch dining experience apart from the finest views of the city of skyscrapers. Visitors can enjoy the liveliness and glamor of the city at these stunning rooftop restaurants.