Hot air balloon rides in Ras Al Khaimah are a popular tourist activity that offers a unique and unforgettable experience. The hot air balloon ride takes you high up in the sky to witness breath-taking views of the desert landscape and Mountains.
The hot air balloon ride usually takes place early in the morning to catch the stunning sunrise over the mountains. The experience typically starts with a pick-up from your hotel and a transfer to the launch site. The balloon is then inflated, and you'll climb into the basket for a peaceful and scenic ride that lasts for approximately an hour.
During the ride, you'll be able to see the desert landscape from a new perspective, including the sand dunes, rocky mountains, and wildlife, such as camels and gazelles. The pilot will provide information about the history and culture of the area, as well as point out interesting landmarks along the way.
After the ride, you'll land back at the launch site, where you'll be treated to a traditional breakfast and refreshments while you reflect on the experience.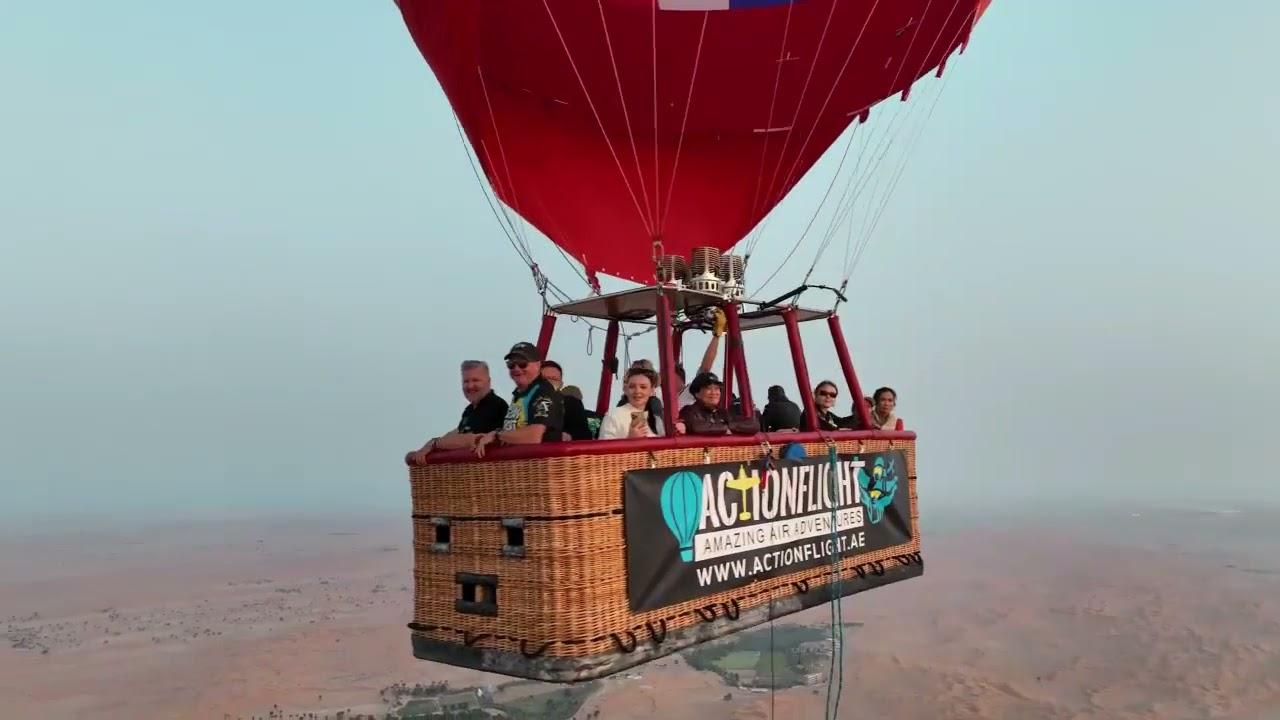 Hot air balloon Ras al Khaimah VS Dubai
Both Ras Al Khaimah and Dubai offer hot air balloon experiences, and while they share some similarities, there are also key differences between the two that may influence your choice. Here's a comparison of Ras Al Khaimah and Dubai hot air balloon experiences:
| | |
| --- | --- |
| Ras Al Khaimah Hot Air Balloon: | Dubai Hot Air Balloon: |
| 1. Scenery: Ras Al Khaimah is known for its stunning desert landscapes, dramatic sand dunes, and the backdrop of the Hajar Mountains. A hot air balloon ride here offers a more rugged and natural setting, providing a unique experience. | 1. Urban and Desert Views: Dubai's hot air balloon rides typically offer a mix of urban and desert scenery. You may get to see the city's iconic skyscrapers as well as the desert landscape. |
| 2. Quieter Atmosphere: Ras Al Khaimah is generally less crowded and bustling than Dubai, creating a quieter and more serene environment for your hot air balloon adventure. | 2. Closer to the City: Dubai is a major metropolitan area, so hot air balloon operations are closer to the city center, making it more accessible for tourists staying in Dubai. |
| 3. Rural Experience: The experience in Ras Al Khaimah may feel more rural and authentic, as it takes you into the heart of the desert away from the city. | 3. Cityscape: While the desert views are still stunning, Dubai's hot air balloon rides provide a unique opportunity to see the city's modern architecture from above. |
| 4. Variety of Operators: There are several reputable hot air balloon operators in Ras Al Khaimah that offer different packages, including sunrise flights with breakfast in the desert. | 4. Variety of Packages: Dubai has a range of operators offering different packages, some of which include transfers from your hotel and extras like gourmet breakfasts. |
Here are the steps you can take to book a hot air balloon ride in Ras Al Khaimah:
Research hot air balloon companies: Look up the hot air balloon companies that operate in Ras Al Khaimah and compare their prices, reviews, and safety records. Some of the popular hot air balloon companies in the area include Action Flight Ras Al Khaimah.
Book a flight: Once you have chosen a company, you can book a hot air balloon flight through their website or by calling their customer service hotline. Make sure to provide your name, contact information, and preferred date and time of the flight.
Prepare for the flight: On the day of your flight, make sure to dress comfortably and wear closed-toe shoes. You may also want to bring a hat, sunglasses, and sunscreen as the sun can be strong in the UAE. The hot air balloon company will provide you with further instructions and safety guidelines.
Enjoy the flight: Once you are in the hot air balloon, sit back and enjoy the stunning views of Ras Al Khaimah from above. Depending on the package you have chosen, you may also be treated to breakfast or other amenities.
After the flight: After the flight, you may be presented with a certificate of completion or other souvenirs to commemorate your experience. Don't forget to take plenty of photos and share your experience with your friends and family!
Overall, a hot air balloon ride in Ras Al Khaimah is a must-do activity for anyone visiting the UAE, providing a unique and peaceful way to experience the natural beauty of the desert landscape.