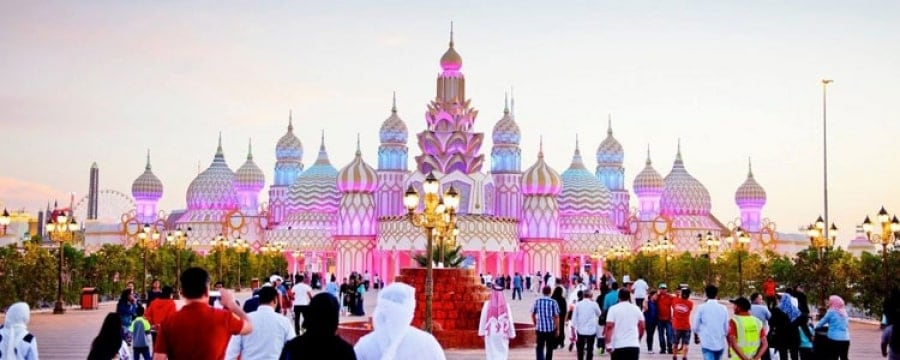 2021 marks the Silver Jubilee of Global Village, one of Dubai's most well recognized family shopping destinations. Global Village had to wrap up early last season owing to the Novel Coronavirus pandemic. However, mall authorities have announced the re-opening of the venue in October 25 via a video post on Twitter. The 25th anniversary celebration of Global Village offers visitors plenty of opportunities for shopping, entertainment, and leisure. Visitors can enjoy these events on offer by paying a nominal entry fee of DHS 15. The festivity is slated to run till April 2021.
The Silver Jubilee anniversary celebration has already opened its registrations for investors. This year, organizers expect a footfall of around 7 million visitors in the 25 week duration planned for the event.
Global Village houses over 3,500 shopping outlets from at least 78 countries and provides approximately 20,000 cultural and entertainment shows. In this, it has become synonymous with diversity and the spirit of multiculturalism in Dubai.
Visitors to the Global Village 2021 Season will be able to celebrate Ramadan at the park. In other words, they can sample various cuisines from all over the world for Iftar.
Dubai Shopping Festival 2021
The DSF or Dubai Shopping Festival is one of a kind event held in the month of January every year in the Emirates city. The month-long shopping extravaganza is a major tourist draw for Dubai, and thousands of tourists throng the city during this time. The entire city dons a festive feel.
What is Special about DSF?
DSF is the only shopping fest of its scale in the entire South-East Asian region. The entire city of Dubai is lit up in celebration of the festival. Shoppers enjoy expansive discounts on a variety of items such as electronics, apparrel, jewelry, accessories, and so on. Almost every mall and shopping centre in Dubai participates in the event, and you can enjoy attractive deals and discounts practically anywhere. Besides allowing customers to snag up goods and services for a steal, Dubai Shopping Festival also showcases local and international artistic talent. You can expect to be offered live entertainment in the form of dance and music performances and more. Scrumptious food availability in the form of catering pop-ups and food trucks near the shopping sites only makes DSF all that much more of a top draw for resident citizens and visiting tourists.
DSF 2021 Dates
DSF just concluded its 25th year anniversary celebrations this year with much fanfare. For those who missed this year's celebrations, the organizing committee has already announced next year's dates. DSF 2021 will be held from 26th December 2020 – 1st February 2021. You can now plan your Dubai visit accordingly to align with the dates of the DSF – we promise you, it's an event you will not want to miss!
The Promise of a Gala Time
The Dubai Shopping Festival, 2021 along with the Silver Jubilee Celebrations of the Global Village, will be an affair to remember. If you haven't already, we suggest you plan your upcoming trip to Dubai in accordance. You will be able to experience Dubai in all its glory with the city lit up to mark the festivities of DSF, and you will also be able to shop to your heart's content for friends and family back home. If that doesn't make for sufficient reason to tour a city, we don't know what does!