What could be a better way to experience and take in the various sights of Dubai, than an enchanting Cheapest Hot air balloon rides Dubai from up above? And guess what, we offer just that in our special tour package! Let's proceed with the details of the tour.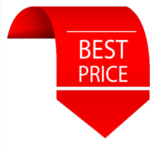 699 AED Per Child
799 AED Per adult
There is no better sight than the view of a rising sun against a clear desert sky. This is even better experienced at a height, against the spectacular backdrop of the majestic Hajjar mountains, as you are sailing high above the desert while the wind is gently rocking your basket and carrying you slowly along to witness the plethora of activity happening below you. Witness the mesmerizing landscape of Dubai, with the larger than life sand dunes continuously changing form with the winds that beat against it. Spot the various indigenous flora and fauna of Dubai, like the hump-backed camels, slight footed gazelles and the rare oryx. The cool serene morning air adds to the pleasure of the experience as you witness the changing colors of the desert as the morning sun climbs steadily up the sky. The bird's eye view that this ride offers, as well as the panoramic experience of a hot air balloon, is unparalleled. And upon finishing this wonderful activity, you may even meet some indigenous farmers and falconers, with whom you may click photographs as a souvenir of this remarkable experience!
The cheapest hot air balloon is a complete family experience that can be enjoyed by all your accompanying travelers. It is an activity unlike any other, and this alternative sightseeing experience will remain memorable to you and your family.
As soon as you make a reservation with us for your hot balloon ride, our liason will contact you and decide the pickup time and location.
Balloon Ride Package details
Our tour package includes the following provisions-
We shall pick you up from your hotel or place of residence. (Additional charge applicable)
We shall arrange transportation by car from the city to the point of origin in the Hajar mountains.
We shall provide refreshments and beverages for the journey. (Additional charge applicable)
The total flight time above the desert will be around one hour over the Al Ain desert.
Once you are done with your flight, we shall issue your fight certificate you shall have time to click photographs.
We shall then transport you back to your hotel or place of residence. (Additional charge applicable)
Some important things to keep in mind
You need to be carrying your passport on your person at all times.
We can arrange transport from any other emirates, but at an extra cost. Please talk to your liason while booking your trip.
Keep your clothing casual and comfortable. It is recommended that you wear comfortable footwear for your ride.
Please adhere strictly to the timings given. Even minor delays in flight time may lead to the trip getting canceled altogether.
Please do not carry heavy luggage or handbags. They will increase the payload and it is not permissible on the trip.
Restrictions:
The following people cannot partake in this activity for medical and safety reasons-
Someone who has undergone major surgery recently
Someone who has had a fractured limb recently
Someone with chronic back issues or neck injury
Women who are pregnant
Children less than 6 years of age
People with a phobia of heights
Cancellation and Refund policy:
In case of any cancellations or rescheduling, the following rules will be followed while revising the charges-
If the trip is to be canceled or rescheduled more than 48 hours prior to the booking, no extra charges will be applicable.
If the trip is to be canceled or rescheduled within a window of 24 to 48 hours prior to the booking, 50% cancellation charges will be applicable.
If the trip is to be canceled or rescheduled less than24 hours prior to the booking, 100% cancellation charges will be applicable.
Refund, if applicable, will be made within 7 working days, and as per the policy mentioned in the text above.